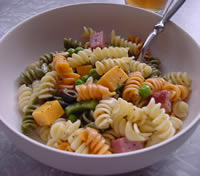 Pasta Salad
2 lbs rainbow corkscrew pasta
1 lb turkey ham, cubed or 1 package turkey pepperoni
1 cup frozen peas, rinsed
1 bunch green onions, chopped
1 bell pepper, chopped
1/2 lb cheddar or motzerella cheese, cubed
1 can black olives, sliced
1 bottle Wish Bone Italian salad dressing
pepper to taste
1. Cook pasta according to package directions. Drain and rinse with cool water.
2. Add remaining ingredients to pasta, reserving half of the dressing. Refridgerate 2 or more hours.
3. Before serving, season with pepper and add remaining dressing as needed.
Eta: you can also throw in some chickpeas, red onions, cauliflower, etc...